Ok folks, this is a challenge. The prize will be a very hackable Polaroid i-Zone Webster 'scanner' doohickey. It's more like a handheld webcam with built in memory, although it can't do live streaming with the software provided. You can however hack the interface software (TWAIN compliant), hack the casing so it can take photos of stuff without holding it up against the items, and it's got a simple serial interface (very simple) so I'm sure an enterprising Linux hacker can figure out how to get the data out of it.
What's the challenge? In 1988, Michael J. Mefford created a utility for PC Magazine called DIRMAGIC, short for Directory Magic. It's a kick ass little utility, but it has some short comings. It can't handle large drives (where large is still significantly short of half a gig). It can't handle more than (approximately) 1k files in a directory. It's slow full screen due to BIOS call emulation, and even slower in a window. It can't handle long file names (obviously). Essentially, computers exceeded the programs built-in future-headroom. But, I have never found anything that can take it's place. So, I issue this challenge. I'm looking for a Win32 Console mode app to replace DirMagic. So that this isn't a blind challenge, I'm including "screenshots" and a zip of the program. It's comprised entirely of an 8 kilobyte .COM file. All that functionality in 8k. Obviously, I don't expect that in the W32 Console mode version. 🙂 Lastly, it would really kick ass if the winner makes it open source. GPL not required, as I like the MPL's approach better anyway. Screenshots and the zip are inside.

First, what DM looks like normally (click for larger version):
DM when you select a file and hit F1 to copy:
DM when you select a file and hit F2 to delete:
DM when you select a file and hit F3 to rename: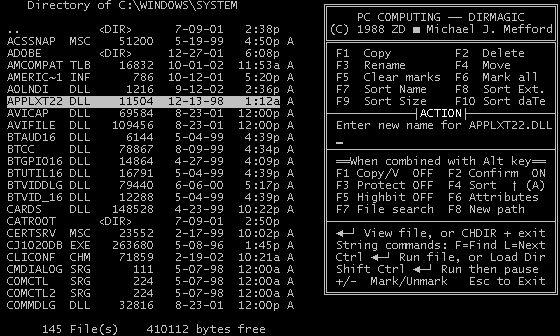 You get the idea. Here is the original DM.com program file. it's a whopping 8k compressed to a tiny 6k. I imagine a new Directory Magic 32 looking something like this:

Maybe with some color, configurable would be nice. I removed a few commands that are worthless in 2004, made file sizes pretty, etc. Alt-F6 will hopefully work on Archive, Hidden, Read Only and System, it doesn't currently mess with system attribs. I figure left and right arrow keys could scroll the filenames. Marking is pretty obvious, you marka bunch of files to work on at once, such as multiple move/delete/attrib/etc. Obviously upper/lower case would be great. Etc.
If you want to do something like this, mail me so we can collaborate on UI issues and all, as that's a rough sketch hacked up in Photoshop. 🙂
I'm language agnostic for this thing, although something easily compilable/editable for others would be nice, so GCC compatible C/C++, Perl or Python (kind of an odd choice, but who am I to judge), etc., is all cool. But stuff like requiring a 20+MB Runtime kit like .Net crap is really not preferred. That's all I can think of for now.